Working Together to Safeguard Children
Safeguarding contact details:
Multi-agency approach
Granville Academy is committed to the safeguarding of all our students. As such, we understand that multi-agency working is essential in safeguarding children. Our duty to protect the students in our care from significant harm, depends on our effective joint working with a range of external agencies, named below. Early help is also provided through excellent pastoral support and the initiation of Early Help Assessments (to either The Pingle Academy or the Local Authority), where required.
Mr Declan Royston-Webb, is the school's Designated Safeguarding Lead. The Academy benefits from a large Safeguarding Team who are all trained to Level 3 in safeguarding. This team consists of all members of the Academy Leadership Team and all Heads of Year. Any concerns about student safety should be referred to any of the members of staff below.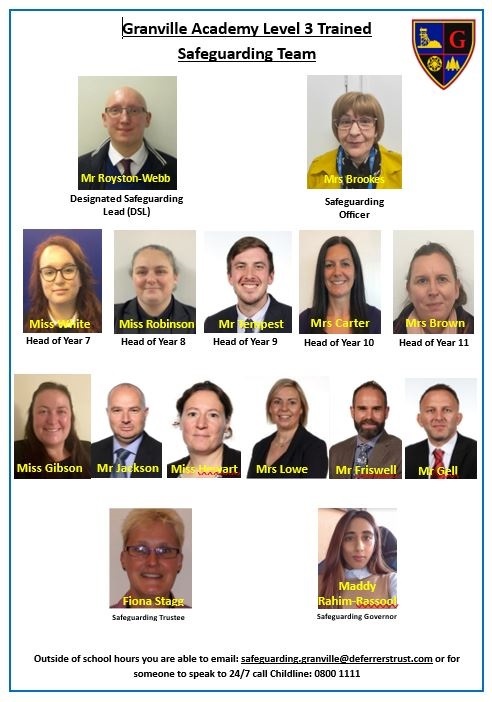 In school, we currently work with a range of agencies, both internal and external, to safeguard and support the students in our care. These include:
Early Help Pingle Team
Children's Services
Derbyshire School Nursing Team
Local PCSOs (Safer Neighbourhood Team)
Young Carers Service
CAMHS Derbyshire
In addition, we also provide a number of support groups for our students. These include:
Attendance support groups
Careers Advisor
Social skills, anger management and behaviour support groups
Anti-Bullying Strategy
The definition of bullying
"When a person and/or group of people repeatedly hurt, cause harm to or intimidate another person and / or a group of people. This behaviour is intentional and is meant to cause hurt or upset to the person / group." Repeatedly- The behaviour is continued over a period of time and takes place more than once. Intentional- This behaviour has taken place on purpose, with the purpose of upsetting / hurting someone. Bullying behaviour usually occurs when a person / group holds more power over someone else. Bullying can take place in several different forms: -
Physical: Physically hurting another individual or group. Such as kicking or hitting.
Verbal: Verbal comments made towards an individual or group. E.g. name calling, using negative language.
Indirect: Having an impact on another individual or group by acting in a negative way towards other individuals e.g. spreading rumours.
Cyber: Any form of repeated inappropriate behaviour online towards an individual or group of people.
Bullying behaviour can involve comments regarding:
Race Culture
Religion Sexual
Orientation
Gender
Appearance
Special Educational Needs
Disabilities
Home circumstances
Family background
Dealing with bullying within the Academy
In the circumstances above, these bullying incidents will be taken very seriously by the academy and staff will ensure that those experiencing bullying and the perpetrators are fully supported.
Bullying is classed as an adverse childhood experience (ACE) and can have a negative impact on the victim. An ACE can be defined as the following: - "Potentially traumatic events that take place during childhood (before the age of 18), which can have a detrimental effect on a child in adulthood."
Bullying is not occasional falling out, relational conflict, fallings out with friends or a split from a group of friends.
If someone feels that they are being bullied but there is no substantive evidence then this will be classed as perceived bullying and the person will be supported in the same way as any other bullying incident.
Preventative measures
1. All students in the academy have a secure understanding of what bullying is. This includes the difference between bullying and relational conflict.
2. The academy will raise awareness of the nature of bullying through assemblies, form time activities and values lessons across all year groups.
3. We will participate in national and local initiatives such as Anti-Bullying Week each year.
4. We will have an Anti-Bullying Strategy at the academy, where students are encouraged to have a proactive involvement in preventing bullying incidents from occurring.
5. We will maintain a team of Anti-Bullying Mentors (trained students) to help raise awareness and are available for peer-on-peer support as required.
6. We will seek to develop links with the wider community that will support inclusive anti-bullying education. This will include links with the local primary and secondary schools to promote Anti-Bullying initiatives.
7. We will engage with the student body by having regular Student Voice meetings, Anti-Bullying Mentor meetings, Student Leadership meetings to discuss the topic of bullying and initiatives in school.
8. Anti-Bullying Mentors will work with the Pastoral Team to support students in school and run initiatives across the year.
9. Pastoral staff will be available to speak with students and deal with bullying incidents appropriately.
10. We will inform parents/carers via social media and the school website of any generic issues related to bullying or social media issues.
We are really proud of our Anti-Bullying Mentor Team. These students can be identified by their purple ties. All students went through a rigorous application and interview process, have had specific training and receive supervision by Mr Tempest, our Head of Year 9.
Early Help Offer
Early Help
Granville Academy subscribe to the Early Help Pingle offer and also can refer into Derbyshire Early Help. The difference between these services is the level of need in which they cater for. Our Designated Safeguarding Lead or Deputy Designated Safeguarding Lead can discuss with you and recommend where your level of need sits once we have met with you as a family.
What is early help?
Early help is a way of getting extra support when your family needs it, but getting it as soon as difficulties start, rather than waiting until things get worse. It is for children and young people of any age. Help can come from all kinds of services and organisations who work together to support your family. You might be using some of these services already, but we want to make sure they are providing the right support for the whole family's needs.
Why would I seek early help?
It could be that you are worried about your child's health, development or behaviour or perhaps because you are caring for a disabled child. Maybe your child is affected by domestic abuse, drugs, or alcohol. Perhaps your child is a carer for other people.
Who do I ask?
Any professional can complete an Early Help referral. At Granville Academy, our pastoral and safeguarding team will discuss referrals with you.
What sort of services or help do I get?
It depends on what you need and it might include services you are already accessing. We will agree it with you and make sure it all joins up. Here are just a few examples:
Family and young people support
Advice and welfare
Youth support
Parenting groups
Drop-in sessions
Domestic violence
Support Groups for male carers/Dads Behaviour
Education welfare
Housing advice
Benefits advice
What happens in an early help assessment?
You will be fully involved and we will listen to you. It may be that we just talk to you and signpost you to the support you want/need. If it is more complicated, we will need to ask you for information, so that we can complete a detailed referral.
Can I say no to an early help assessment?
Yes you can. But we would like to stay in contact with you in case your circumstances alter or you change your mind.
Does it mean social services will get involved?
No. If in the future your circumstances change and it becomes a possibility, we will keep you involved and work with you so that you understand what is happening and why.
What happens when I stop receiving early help services?
We want you to become confident and able to find your own solutions and take responsibility for your family. You can continue to use all services that are open to families and children and if your needs change then please ask us for further help should you need it. There are times when children, young people and families need extra help. Someone might offer this to you, but other times you might want to ask for it.
Mental Health and Well-being Strategy
Mental Health Strategy
The Academy Leadership, Academy Safeguarding and the Support and Guidance Teams help to create a positive culture with students and staff around all aspects of safeguarding by encouraging an ethos of professional curiosity and 'it could happen here' and discussing mental health and safeguarding concerns openly to encourage others to do the same.
The staff at this Academy recognise that children are often silenced by abuse and trauma and that staff play an important part in enabling children to find their voice through providing a safe, supportive and nurturing environment.
Trauma and Mental Health
At Granville Academy, we provide training on the lasting effects of trauma both to staff and students during Inset days and assemblies. This is also a regular feature in our weekly safeguarding briefings and bulletins.
The purpose of this, is to better support staff to be able to spot the signs of historic and current abuse and/or the effects of trauma.
The Support and Guidance Team are best placed to raise a concern as they are easily accessible to the students and able to offer a prompt response to an identified need and signpost on to more specialist support if required.
In addition, a number of Academy staff have received attachment training to support their knowledge and skills in this growing area of need.
Mental Health Support
Granville Academy recognises that children from time to time will have difficulties with their mental and emotional health that may be linked to other experiences past or present within their lives that may have a lasting impact.
Tier 1 Mentoring Support
1:1 support provided by a team of Mental Health First Aiders (MHFA) and Pastoral Year Teams. This level of support is suitable and available to all students experiencing low level concerns such as low mood, low self-esteem.
Tier 2
1:1 support provided by the Mental Health in Schools Team (NHS Midlands). The support provided will bridge the gap between the Tier 2 and Tier 3 service. In addition, targeted support is offered through a Think For The Future Mentor.
Tier 3
1 day per week, 1:1 support will be provided by qualified British Association for Counselling and Psychotherapy (BACP) accredited counsellors. Students referred will generally be referred via Tier 2 support and will require more in-depth emotional support and intervention.
If more complex issues are identified in terms of mental health parents/carers will be contacted and requested to take their child to the GP for more specialist/ targeted support.
Information of support will remain confidential unless there is reason to believe the child is at risk of significant harm, at which point it will be passed on to the designated safeguarding staff for referral.
On-Line Safety
What are we doing at Granville Academy?

All internet access at the Academy is filtered, although we can never guarantee that 100% of all offensive content will be blocked. We also monitor all internet and network use and any offending images/text or illegal sites will be flagged up and automatically screen-captured, highlighting the user.
Increasingly, we think that it is also important for students to understand the issues involved in online safety, so we are expanding our Online Safety strategy to include:
Information contained within the weekly Parental Newsletter for parents about Online Safety
Additional information on our website
Annual Parent Power session on Online Safety
More frequent discussion about Online Safety issues with staff, governors and parents
Getting students in ICT to get more hands-on experience with social networking and how to report offensive images/text, change privacy settings, etc
Provide communication systems for students seeking advice and wishing to discuss issues about online safety
Education through our curriculum subjects, such as Values, about staying safe online
Adding the CEOP button to our website and iPad homescreen
TOP 10 TIPS FOR ONLINE SAFETY:
Never give out personal details online (address, phone number, full name)
Turn off location settings on cameras or photographs you post online may reveal exactly where you took them (eg, on Googlemaps)
Think before you post! Would you say it in real life to someone's face?
Remember that nothing can ever be permanently deleted - you leave a digital footprint! Many employers look at applicants online presence…
Don't download unknown files or click on suspect weblinks – they may contain viruses
Report any concerns or inappropriate content to CEOP using the 'Report Abuse' button, including any worrying followers/message senders on social networking sites.
Watch your language & think about your username
Think about any photographs you post – avoid adding names and don't post pictures in your school uniform
Turn on privacy settings so only trusted friends can see your posts
Never meet anyone you only know online in real-life – they often aren't what they say/appear
ADVICE TO PARENTS:

Most students can now access the internet and send photos/video feed via their smartphones, gaming consoles, tablets, etc. Many students will also have their own social networking sites, such as Twitter, Facebook, Snapchat, etc. You can find advice and information on many of these sites using the weblink here:
The best approach is to talk to your children about responsible online behaviour and the possible consequences of actions and bad decisions.
You can search for information to help children stay safe here:https://parentinfo.org/
The 'What's the Problem' Parent Pack below by The Lucy Faithfull Foundation offers advice about issues relating to Online Safety and inappropriate images and material.
If you are subject to online abuse, exploitation or made to feel uncomfortable online by something that happens, you can contact the police via the CEOP Report Abuse button below and they will investigate: https://www.ceop.police.uk/CEOP-Reporting/
You can contact your Internet Service Provider (ISP) to have content blocked/restricted before it reaches you.
Digital Parenting from Vodafone has been around a long while now, it is a really useful and free reference guide for parents and carers to support their children on line. Below are links to the most current publication and their other resources.
Digital parenting (vodafone)
https://www.vodafone.co.uk/mobile/digital-parenting/resources-category

Digital Parenting Magazine
https://cdn.flipsnack.com/widget/v2/widget.html?hash=fh90zaf97
UK Safer Internet Centre:
TikTok app - see below to find out about why police are concerned about how young people using the TikTok app and advice for parents/carers
See the latest information from National Online Safety group about Fortnite 2 and other technology concerns as part of their #WakeUpWednesday campaign: https://nationalonlinesafety.com/resources/wake-up-wednesday/
** SnapChat Maps is a new update from SnapChat that could allow children to inadvertently reveal their location and pose a danger. Click below to find out more and how to protect your child.
https://www.bbc.co.uk/news/av/technology-40511947
https://www.saferinternet.org.uk/blog/introducing-%E2%80%98snap-maps%E2%80%99-new-location-sharing-feature-snapchat
See below links to online safety guides:
12 Social Media Online Safety Tips
An Online Safety Guide for Trusted Adults about Likee
FaceApp Online Safety Guide for Trusted Adults
What Parents Need to Know about Instagram
Social Media and Mental Health - Positive and Negative Impacts
Social Media and Mental Health Online Guide for Trusted Adults
Social Pressures Linked to Friends and Followers - Online Safety Guide
Social Pressures linked to Likes - Online Safety Guide
Social Pressures Linked to Influencers - Online Safety Guide
What Parents need to know about Telegram
YouTube Kids Online Safety Guide